Video
Happening here
24 Jan 2016 - 24 Jan 2016
About Globe Bowl Riot
JANUARY 24, 2016, SYDNEY, AUSTRALIA
On Sunday January 24th (8am – 4pm) Globe Bowl Riot U/16 Skateboard Championship will take place for the second year running at the iconic St Kilda Skate Park and will showcase the new wave of skateboarding in Australia.


Bowl Riot has three divisions, Under 16 Boys and Girls, Under 12 Boys and Girls and for the first time a new and hotly contested Under 9 Boys and Girls division! In all three divsions Boys and Girls will compete against each other, Bowl Riot has no gender distinction.

Bowl Riot shines a spotlight on a new wave of young Australian skaters that are now skating at a level way beyond their years.

Under 16 and Under 12 skaters that are making waves in the senior ranks include Luke Russell (15yo), Jed McKenzie (14yo), Ava Godfrey (12yo), Poppy Starr Olsen (15yo) and Dylan Donnini (10yo). And in the Under 9s keep an eye on Jackson Donnini (6yo).

"The Globe Bowl Riot is bringing attention to a talent pool of kids who are the next wave of skateboarding stars, some are already having an impact." said Event Director Renton Millar "We worked hard to get St Kilda Skate Park built and it's so exciting to see the future dominators battle it out for a whopping $10,000 cash purse at such an iconic location."

-----

WHO: 16 & under Boys & Girls, 12 & under Boys & Girls, 9 and under Boys & Girls, the best bowl riders in the country
WHAT: Only event of its kind, an Under 16's, Under 12's and Under 9's bowl riding competition with a cash prize purse of $10,000
WHEN: 8am till 4pm Sunday January 24th, 2016
WHERE: St Kilda Skate Park, Marine Parade, St Kilda, Melbourne
WHY: To showcase a new wave of skaters that don't skate like kids but like professional skateboarders
DIVISIONS:
16* & under boys and girls
12* & under boys and girls
9* & under boys and girls
PRIZES: $10,000 prize purse for top 10 placings, trophies for top 10 placings in all three divisions
*as at the date of competition
Contacts & Organizers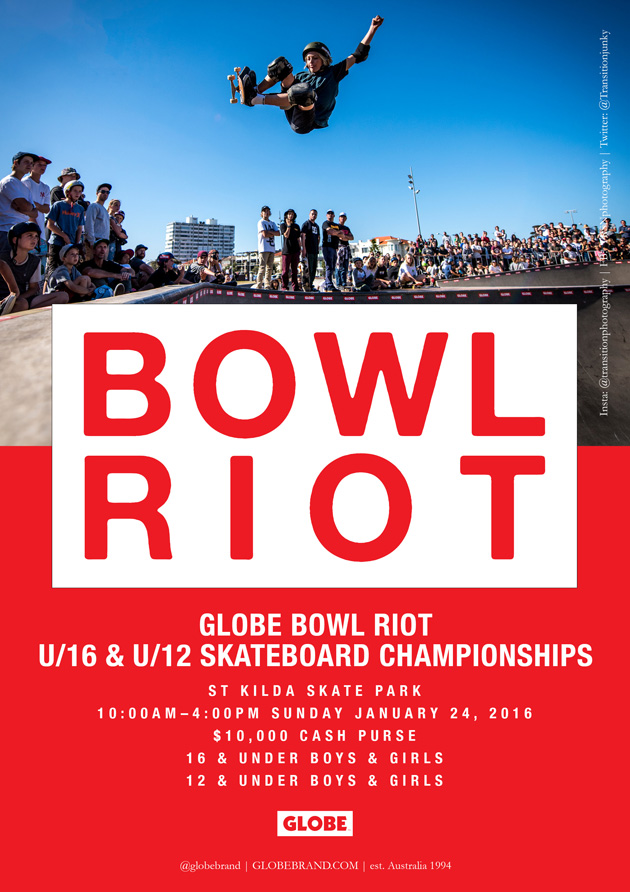 Globe Bowl Riot
Catani Gardens, Saint Kilda West, Victoria, Australia
Tags
Sponsor details
Please complete the form bellow and we'll contact you with further details about how to become a sponsor. Thank you.