Video
Happening here
About Rennafix / Zero Gravity 24 hour Skate-a-thon
MARCH, 4 - 5, SLIGO, IRELAND
The Skate-a-thon is a 24 hour fundraising event organised by Rennafix Group taking place at ZeroGravity Skatepark. Our aim is to have at least one person roller blading, skateboarding or BMXing on the ramps for a continuous 24 hours. Doors will be open for the event from 9pm Friday evening 4th of March.The event will finish at 9pm on Saturday the 5th of March.
Participants are asked to pay a €20 deposit on-line or at Zero Gravity Skate Park. They will then receive a sponsorship pack and can use this to raise a further €80 to meet the €100 entry requirement. However there is, of course, no upper limit on the amount you can fundraise.
Profits from the event go back into the Rennafix Fund. This fund is used to pay for people in therapy to take part in life-enhancing activies as a compliment to their mental health recovery.
Celebrate with us and This Side Up at our wrap party in 5th on Teeling Saturday night, Free Admin for event participants, i.e. that's You!!
Contacts & Organizers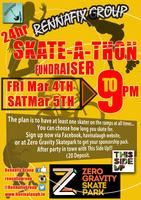 Rennafix
Cleveragh Business Park, The Back Avenue, Cleveragh, Sligo, Ireland
Tags
Sponsor details
Please complete the form bellow and we'll contact you with further details about how to become a sponsor. Thank you.