Video
Happening here
About Video Shoot @ You tube (Manifesto Seriti TV fs)
Good morning.
This communique serves to inform you that my name is Mr. Jorose Tjaka, I am a member of H.B.A Group (Humble Black Africa) Hip-hop Group. I am proudly South African residing in Bloemfontein, Free State. Kindly be informed that I am employed by the TNF Projects and Trading (PTY) LTD as Publicity Manager for this event "Manifesto Hip-hop tour".
We are having a plan of hosting Manifesto Hip-hop Tour as to enhance the history of Hip-hop within Mangaung (Bloemfontein) and the Free State Province as a whole, and also to inspire the up-coming talent within the Free State Province in a professional state of mind where artist can earn a living while helping them pursue their artistic goals and ambition.
in the nutshell, we have compiled the proposal for the Manifesto Hip-hop Tour that entails the whole scenario of the entire project (Manifesto Hip-hop Tour).
*Attached hereto, please find the Proposal and also the Company Profile for your perusal.*
On the basis of the above, We are humbly requesting for sponsorship hence the project requires a huge amount of money and marketing. We accept any kind of sponsorship.
We hope that our request will meet your consideration.
Your response will be highly appreciated.
For further enquiries pertaining this tour, please do not hesitate to contact our Publicity Managers as follows;
*Mr. Samuel Kotelo*
*Publicity Manager*
*Mobile: +27 76 096 6634
*Email: samuel.kotelo@gmail.com< samuel.kotelo@gmail.com>*
*Mr. Pakiso Tjemolane*
*Assistant Publicy Manager*
*Mobile: +27 74 523 5149
Contacts & Organizers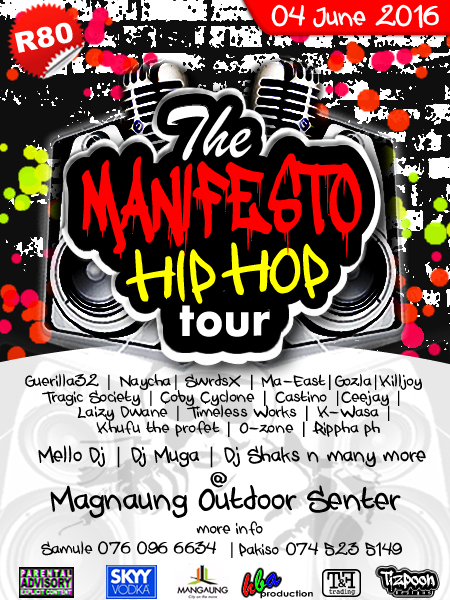 Manifesto Hip Hop Tour in Free State, South Africa
Miami, FL, United States
Tags
Sponsor details
Please complete the form bellow and we'll contact you with further details about how to become a sponsor. Thank you.