Video
Happening here
21 May 2016 - 21 May 2016
About 48th Annual GoPro Hangtown Motocross Classic
MAY, 21, RANCHO CORDOVA, CALIFORNIA
It's not just any motocross race, but the oldest and one of the most prestigious in the United States. Hangtown is the opening round of the 12-race Lucas Oil Pro Motocross Championship sanctioned by the AMA.
Past Hangtown races have been legendary, with unbelievable battles between Bob Hannah and Marty Smith, Jeremy McGrath and Jeff Emig, and Ricky Carmichael and James Stewart. Other legendary battles were against the track, when in 1991, it rained so hard the first turn was under 4 feet of water with hay bales floating down the track. That race made history, as privateers won both races: Doug Henry in the 125 class and John "Junkyard" Dowd in the 250 class. Privateers have not won both races before, or since that fateful Hangtown race in 1991.
The late Danny "Magoo" Chandler kept Hangtown fans at the edge of their seats for years, with a riding style that has not ever been duplicated. Bob "Hurricane" Hannah graced the crowd with his feet-off-the-pegs style and was a Hangtown favorite. Doug Henry amazed the Hangtown faithful with a convincing win in 1997 aboard the world-changing Yamaha YZ 400 four-stroke. Ricky Carmichael and James Stewart scorched the Hangtown track in 2006 when they battled for 30 minutes straight, and never were more than a few bike-lengths apart.
Every year, there is a new battle to witness, and a new legend to be re-told. Perhaps it is the Hangtown mystique that makes Hangtown racing legendary. Many people say that attending Hangtown is a way to be a part of motorcycling history.
In 2014, the Dirt Diggers North Motorcycle Club, which promotes Hangtown, decided to take Hangtown to a new level of professionalism, updating its logo and restructuring how it does business. The Club began this new era by introducing a new standard for the pro awards. The Club constructed a framed shadow box of Civil-War era revolvers. These awards were designed to be the best of the best, and Racer X Magazine awarded DDNMC its Best Pro Trophy award for 2014, given to the race with the best pro awards. In 2015 DDNMC raised the bar again, and captured its second consecutive Best Pro Trophy Award.
For 2015, DDNMC created the largest jump in all of outdoor motocross, called the FLY 150. It made waves throughout the entire pro series, and established Hangtown as one of the wildest tracks in the U.S.

On Thursday afternoon, May 19, the top pros will be riding their "media day" on the track. Later on Thursday night, join us at the Palladio Mall in Folsom for a Hangtown pre-party. More details will come as the race gets closer. Friday is race day for all of our top amateur riders, with racing getting underway at 9 am.
On Saturday, May 21, the top pros in the world hit the track for timed practice and qualifying around 8:30am. Opening ceremonies start at 12:25pm and racing gets underway at 1pm.
Contacts & Organizers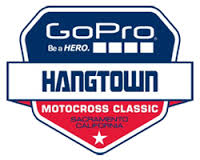 Dirt Diggers North Motorcycle Club
Prairie City State Park, 13300 White Rock Road, Rancho Cordova, CA 95742, United States
Tags
Sponsor details
Please complete the form bellow and we'll contact you with further details about how to become a sponsor. Thank you.